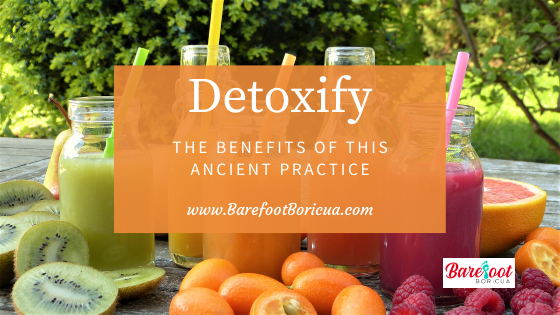 Detox– I'm sure you have heard it before. It is not a new practice, as a matter of fact, it is an ancient concept. Practically all traditional medicine traditions practice some form of detoxification to improve or maintain good health. Throughout history, ancient cultures all over the world from Rainforest tribes, Native Americans, Indian, Greek, Roman and others have practiced methods of detoxification. This includes using herbs as medicine that is local to them. My travels to other parts of the world including Thailand and my home, as well as working together with holistic doctors has emphasized even more the importance of this process to maintaining good health. (I will talk about that more in detail in another blog)
But What is Detoxification Exactly?
It is the process of cleansing our bodies of waste and impurities.
Proper detoxification is connected to good health.
We are constantly bombarded by external toxins in each and every individual form such as environmental pollution, smoking, our diets (hormones, pesticides, antibiotics), among other things – that's right, in the air we breathe, the food we eat and the water we drink. Then we have internal toxins- yep that's right, our bodies also produce them as a result of its many metabolic processes
Why Detox?
While our bodies are equipped with the tools to assist with its own detoxification through our detoxification organs (liver, gallbladder, kidneys, digestive system, lymphatic system, etc.) our systems can become overloaded and clogged with an increasing number of toxins our bodies are exposed to and they need extra help to keep up with the demands placed on them.
Think about it this way: We all agree (I hope) that bathing, washing our hair, and brushing our teeth routinely are all a part of maintaining a healthy body. All of these things are important to keep your outside healthy…but what about our insides?
We also change our air filters periodically. We don't use the same filters for years to come, because it gets clogged with airborne pollutants.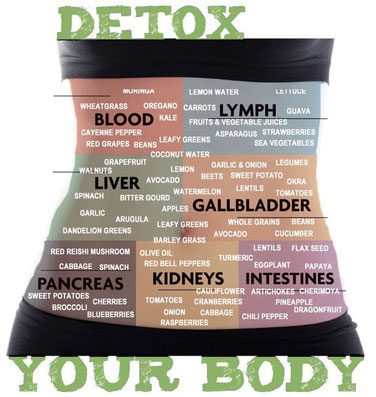 You go to get the oil changed in your car, and also change the oil filter or cleaning out the old oil before dumping in the new oil, right? You are aware that you need to do that because your vehicle will not be running at its optimum level. But… what about our vehicle? Is it not the most important, after all?
Who Should Detox? Those who…
Eat processed foods
Drink alcohol
Consume excess sugar
Are exposed to pollutants/chemicals
Have Chronic Pain/Inflammation
Contract hepatitis
Smoke
Don't get enough sleep
Experience stress
Need more energy
Want to lose weight
Have sensitivities (chemical, allergies)
Breathe 😉
Benefits of Detoxification
It helps support a stronger immune system
Helps support weight loss- A great jump start to your weight loss program 
It helps keep your digestive system on track and regular
It can increase energy levels
It helps you feel better both physically and mentally
Many have also reported significant decrease in pain and inflammation.
Where to Start…
Nobody said detoxing is easy, but with the immense number of benefits it is worth it! With some planning and discipline you can do it too. 
There are lots of programs and cleanses out there and sometimes herbalists prepare their own; but they may not be as accessible or convenient for everyone.
My favorite by far, that I have been using periodically for about 7 years now is the Nutriclean 7 Day Cleansing System. Its 7 days, which for me is not too long, but not too short. 
My patients have reported great results including: Weight loss, increased energy, improved digestion, and decrease in pain.
The Nutriclean 7 Day Cleansing System uses exceptional herbs and botanicals to detoxify, cleanse, and purify the digestive tract and liver. In providing select nutrients and botanicals, the nutraMetrix NutriClean 7-Day System mildly purges the body of potential or accumulated toxins. To ensure proper health, it is beneficial to begin with a clean slate. nutraMetrix NutriClean 7-Day System is a three-pronged approach that works diligently to cleanse the digestive system as it flushes out the colon, and supports the body's natural processes of restoration and cleansing.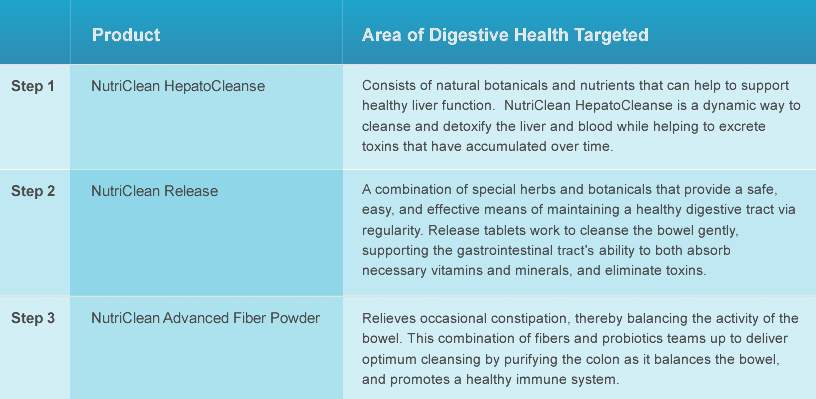 I choose to Detox every season as commonly recommended by traditional Chinese medicine and Ayurvedic practitioners. Many find benefit from doing it twice a year as well. Either way, more than ever before it is crucial to detoxify your system of harmful toxins so that your body can function as intended.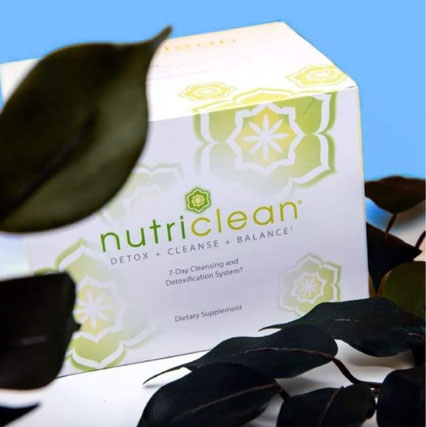 In our next blog, we will discuss tips and tricks you can use to get the best out of your detox week. 👣💜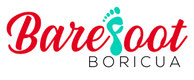 Scientific Studies For NutraMetrix NutriClean® 7-Day Cleansing System With Stevia*
Agarwal K et al. Feasibility studies to control acute diarrhea in children by feeding fermented milk preparations Actimel and Indian Dahi. European Journal of Clinical Nutrition. 56(Supplement 4): S56-S59, 2002.
Akisu M et al. The role of dietary supplementation with L-glutamine in inflammatory mediator release and intestinal injury in hypoxia/reoxygenation- induced experimental necrotizing enterocolitis. Annals of Nutrition and Metabolism. 47(6):262-266, 2003.
Arunachalam K et al. Enhancement of natural immune function by dietary consumption of Bifidobacterium lactis (HN019). European Journal of Clinical Nutrition. 54(3):263-7, 2000.
Brighenti F et al. Effect of consumption of a ready-to-eat breakfast cereal containing inulin on the intestinal milieu and blood lipids in healthy male volunteers. European Journal of Clinical Nutrition. 53(9):726-733, 1999.
Cashman K. A prebiotic substance persistently enhances intestinal calcium absorption and increases bone mineralization in young adolescents. Nutrition Reviews. 64: 189-96, 2006.
Cetinkaya, A., et al. N-Acetylcysteine Ameliorates Methotrexate-Induced Oxidative Liver Damage in Rats. Medical Science Monitor. 12(8): 274-278, 2006.
Cummings J et al. A study of fructo oligosaccharides in the prevention of travellers' diarrhoea. Alimentary Pharmacology and Therapeutics. 15:1139-1145, 2001.
Cunningham-Rundles S et al. Probiotics and immune response. American Journal of Gastroenterology. 95(1 Suppl):S22-5, 2000.
Davidson M et al. Effects of dietary insulin in serum lipids in men and women with hypercholesterolaemia. Nutrition Research 3:503-17, 1998.
de Roos N et al. Effects of probiotic bacteria on diarrhea, lipid metabolism, and carcinogenesis: a review of papers published between 1988 and 1998. American Journal of Clinical Nutrition. 71(2):405-11, 2000.
Evans M et al. Glutamine prevents cytokine-induced apoptosis in human colonic epithelial cells. Journal of Nutrition. 133(10):3065-3071, 2003.
Fernandes C et al. Control of diarrhea by lactobacilli. Journal of Applied Nutrition. 40:32-43, 1988.
Flickinger E. Glucose-based oligosaccharides exhibit different in vitro fermentation patterns and affect in vivo apparent nutrient digestibility and microbial populations in dogs. Journal of Nutrition 130:1267-73, 2000.
Furukawa S et al. Glutamine-enhanced bacterial killing by neutrophils from postoperative patients. Nutrition. 13(10):863-869, 1997.
Gibson G et al. Selective stimulation of bifidobacteria in the human colony by oligofructose and inulin. Gastroenterology. 108:975-982, 1995.
Gibson G. Dietary modulation of the human gut microflora using the prebiotics oligofructose and inulin. Journal of Nutrition 129: 1438S-1441S, 1999.
Halpern G et al. Treatment of irritable bowel syndrome with Lacteol Fort: a randomized, double-blind, cross-over trial. American Journal of Gastroenterology. 91(8):1579-1585, 1996.
Jackson K. The effect of the daily intake of inulin on fasting lipid, insulin and glucose concentrations in middle-aged men and women. British Journal of Nutrition. 82:23-30, 1999.
Kleessen B et al. Effects of inulin and lactose on fecal microflora, microbial activity, and bowel habit in elderly constipated persons. American Journal of Clinical Nutrition. 65(5):1397-1402, 1997.
Kren, V. and Walterova, D. Silybin and Silymarin–New Effects and Applications. Biomedical papers of the Medical Faculty of the University Palack
*If you are pregnant, diabetic, or under care of a physician for an ongoing medical condition, you may not be able to participate in a 7 day detox. Before you start a detox diet, you should consult your physician.These statements have not been evaluated by the Food and Drug Administration. These products are not intended to diagnose, treat, cure or prevent any disease.