We all have a story. Sometimes we allow past experiences to manifest negative thoughts or behaviors. Then without even realizing it, many times these thoughts lead to self sabotaging behaviors.
What thoughts do you have swirling in your head when it's time to take action?
'I can't do THAT!' 'Everyone will think I'm crazy/stupid/selfish!' 'Nobody will…' 'Who am I to…?' 'I'm not…' 'I don't have enough time/energy/money/experience/education.' 'What if [worst case scenario] happens?"
'What if [worst case scenario] happens?"
Do any of these sound familiar?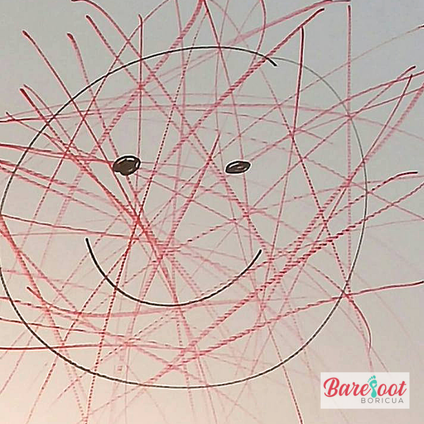 I was at my BodyMind Coaching retreat and we did a group exercise where everyone shouted out those negatives beliefs that came to mind. Think of your teenage years and things that people have said to you. Every time someone shouted a negative belief…a line was drawn on the image.
This is what happens when you keep feeding these thoughts. It scars your system.
Sometimes when we want to take the next step in growth or change, these thoughts might come to mind. They are fear driven and meant to keep you stuck where you are, in your comfort zone.
And then we tell our story of why we can't do this or that or why we feel like we are not worthy of certain things such as receiving love.
We grow in a society where everyone wants to know the gossip. They want to hear every detail of your story. But why do we have to tell that painful story all of the time? Why not speak about the positive things you learned from your experiences? The longer you stay stuck in the rut you block yourself from receiving the positive things that come your way.
So how can you move forward from the pain or that negative mindset that keeps you stuck? Re-write your story. That's right; thoughts are just thoughts, yet we let them take over our lives and control us. When it comes to achieving your goals, you need to first address the negative thoughts, beliefs and words that keep you in your comfort zone and replace them with positive beliefs that support you in moving forward.
I challenge you to take a moment to listen to those negative beliefs so you can re-frame you're relationship with them. I also challenge you to rewrite your story.
Lets re-write the story. Fill in the blanks. Speak in the present:
"Up until today, I used to _______________(negative thoughts or actions), but that is no longer my story. I am rewriting my story and I feel/am _____________________."
Writing that heals:
• accepts our story and makes sense of it
• explores honest feelings
• uses words to heal
• embraces a positive outlook
Read more: WRITE TO HEAL FROM TRAUMA, LOSS & ILLNESS: 7 PROMPTS TO EXPLORE NOW
So, how will you re-write your story? 👣💜